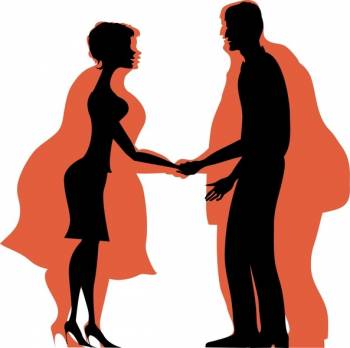 This is you.
Your weight inhibits you when it comes to dating and/or intimacy.
You avoid social events because you are embarrassed by your size.
You avoid going shopping because you can't buy what you'd like to wear.
You don't participate in sports or fitness activities due to weight-related knee, ankle, and foot problems.
You don't go to the beach because you refuse to put on a bathing suit.
You've tried countless diet plans and none of them work. You hate looking at yourself in the mirror.
This is us.
Weight★No★More℠ Diet Center offers clients a true first class, personalized weight loss and lifestyle service, going above and beyond to help people. We have been in business for a very long time, not because we tell clients what's good for them and what's bad for them; they already know that. Instead, in a very personal, guided way we teach clients how much and how often and why those two factors are the keys to metabolism, blood sugar stability, hormonal balance and healthy long-lasting weight loss.
The program.
Our program consists of four parts: Basic, Intermediate, Advanced, and Final Lifestyle programs. All are based on a cardiac lifestyle: low fat, high fiber, low protein, high complex carbohydrates. Each is balanced among 6 food groups: Proteins, Vegetables, Fruits, Milk/Dairy, Grains, and Fats . . . and all food is the normal, regular, everyday food you buy in the supermarket. We don't sell anything!
We take into account your gender, age, height, weight, medical issues, or pregnancy to personalize a program. We control your portions and the number of servings in each of those foods groups, and we also control the amount of water you drink. Everything else that you put into your mouth counts. Despite what you may have heard or like to think, NOTHING is free; there's no such as thing as "free" food.
The amount of food you eat (the number of daily servings in each food group) will stay the same throughout the four Lifestyle programs. What changes is the selection of food as we move you from one program to the next. We will do that every time you lose 25% of the total amount of weight you need to lose — when your fat cells are shrinking and your metabolism becomes faster — adding items that are easier to burn or just adding things as you work towards earning them back. By the time you get to our Final Lifestyle, almost everything is back in your life except junk food.
Additionally, with every Lifestyle program we provide a suggested menu which is planned out for an entire week, and includes all meals and snacks. You can follow some of it, all of it, or none of it. It's just a guideline, and we're also available to help you with menu planning at your visits.
The daily process.
We meet with clients from all over the country 2-3 times per week by appointment. Each visit begins with a weigh-in (our distance clients will send us their morning pre-breakfast weights), after which we check and help plan daily food diaries, provide cooking tips and recipes, talk about any upcoming potential challenges (vacations, business trips, restaurants), and offer encouragement, motivation and inspiration to stay focused
Tools and resources.
Custom electronic diary form (for those who prefer digital versus paper) to facilitate daily/weekly menu planning.
Clutter and chaos makes you fat! We assist with weekly personal organization planning so that in addition to their regular chores and tasks (i.e., laundry, gym, clean house, etc.) time is scheduled for the three things that MUST get done in order to be successful at weight loss: menu planning, grocery shopping and food prep!
A vast library of information (blogs, reference sheets, podcasts) at our website, along with 2-3 social media posts each day of the work week, to educate and motivate, inform and inspire.
Hundreds of recipes at our web site facilitates our clients' menu planning for each of the four parts of the program (Basic, Intermediate, Advanced, Final). Each recipe provides clients with the number of servings it yields, what a one-serving measurement is, and how to categorize it into one or more of the program's food groups.
Regardless of which physical location a client is serviced at, all clients have 24/7 access to the owner, whether to answer any questions they may have or for a motivational pep talk.
Recent comments from clients:
"If you had asked me a year ago where I saw myself in the next year, I don't think I'd even come close to describing where I am now. I have lost a total of 148 pounds as of today going from 303 pounds to 155 pounds in the course of a year."
Isabel, Memphis, TN


"Going to Weight★No★More℠ Diet Center was the best decision I ever made for myself and my health. I've tried multiple diets through the years and have never been successful. I've lost 80 lbs in 5 months and could not have done it without her help. I feel amazing and know that this time, from the tools and support she's given me, I will keep it off!"
Joseph, Millstone, NJ


"My blood sugar is normal, and my doctor has decided to remove my HBP medicine to a dose of only 5 mg down from 40 mg and soon to be zero. I knew my health would improve but to see it actually occur so quickly is the greatest motivation I have ever had. I could not have done this without Lori and her expert advice, coaching and wisdom."
Cynthia, Saratoga Springs, NY


"Working with Rosalie Shatzman, who guided me through the Weight★No★More℠ Diet Center program, was the key to my successful 30-lb. weight loss. When I came to see her for the first time, I felt discouraged about my prospects of losing weight. But with our thrice weekly phone check-ins and her constant encouragement, each week the needle moved in the right direction."
Heidi, New York, NY


"My doctor recommended I see Lori at Weight★No★More℠ Diet Center. I have learned so much with her; not just nutrition and self-care but also life skills. Her knowledge, methodology, and mentoring have been life changing."
Judy, Seaside Park, NJ
If you're overweight or obese, what are you weighting for?
Don't put it off until you're "ready." We are never "ready" to begin a journey that we wish we didn't have to take. You've got to start before you're "ready." If you know you're on the wrong one, make a right turn and reach out to us. If you want to complete the journey successfully, you need discipline, guidance, structure and accountability — and no one does that better than we do!
If you would like us to call you for an initial conversation, at which time you can decide whether or not to schedule a consultation, please fill out the form below. We ask for this information because it allows us to prepare for a personal, individualized conversation.